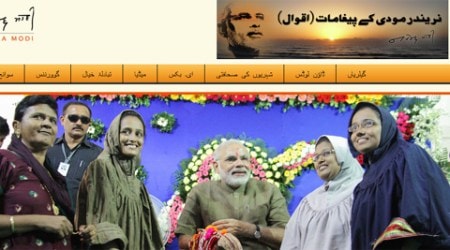 I
n his latest bid to reach out to Muslim voters, BJP prime ministerial candidate Narendra Modi on Wednesday launched a new website in Urdu. The website was launched in Mumbai by noted Bollywood writer Salim Khan in the presence of BJP leader Shaina NC.
According to Modi's website, the portal has been launched in Urdu as part of the "focused initiatives" of Modi at "reaching across to a cross section of people". The website further mentions the launch as an "initiative" to put across Modi's views to "people across the border".
As of now, the website of the Gujarat Chief Minister is currently available in 11 regional languages (Gujarati, Hindi, Sanskrit, Kannada, Malayalam, Telugu, Tamil, Marathi, Punjabi and Assamese and Odia) and 4 foreign languages (Russian, Japanese, Chinese and Spanish), along with English.
(Source: http://indianexpress.com/)