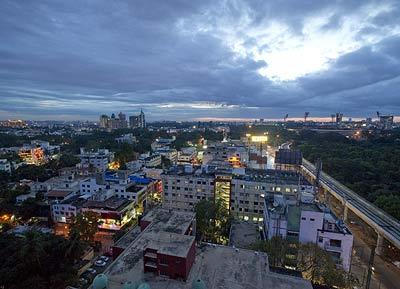 Bengaluru, Jan 22 (IANS)
A leading international rating agency has certified Bengaluru as the most liveable location in India, followed by Mumbai and Chennai.
Though Bengaluru is ranked 171 in the global liveability index, the tech hub has scored favourably over metros and other cities across the country in terms of overall quality of living, while New Delhi has been rated as the least liveable, with worst air quality.
"In India, Bangalore (Bengaluru), which is ranked 171 globally, scores most favourably followed by Mumbai and Chennai both ranked 182. New Delhi, ranked 204, is the least liveable, with worst score for air quality like Beijing is in the world," ECA International said in a statement Thursday from London.
As the leading provider of knowledge, information and technology for the management and assignment of employees the world over, ECA rated Singapore as the most liveable location in Asia and globally, followed by Sydney and Adelaide in Australia.
"Good air quality, solid infrastructure, decent medical facilities, low crime and health risks contributed to Singapore maintaining its top position in the global ranking for quality of living for Asian assignees," ECA regional (Asia) director Lee Quane said in the statement.
The agency's annual location rating system evaluates multiple factors to assess the quality of living in 450 locations worldwide for enabling global firms fix allowances to their employees.
Factors for the assessment include climate, availability of health services, housing and utilities, political tensions and air quality.
In the Indian sub-continent, Pakistani cities like Islamabad and Karachi, ranked at 261 and 269 in the survey, have the region's worst scores for personal security and social-political tensions.
"They are the hardest locations surveyed in Asia for expatriates to adapt to living and working in," Lee said.
While Hong Kong is ranked high as a place for Asian expats to live, the ECA survey revealed that its attractiveness has dropped.
"The unrest in recent months and restrictions on movement of people due to socio-political factors worsened living conditions in Hong Kong," Lee recalled.
Martial law declaration led to a worsening in socio-political scores for ranking locations in Thailand.
While Malaysian locations fell in the global ranking, its capital Kuala Lumpur slipped to 118 from the previous rank of 115.
Shanghai, ranked 110 globally, is rated as China's most liveable city followed by Beijing at 122.
Denmark capital Copenhagen, ranked seventh globally, is the European city that offers the best quality of living for Asian assignees followed by Swiss city of Bern.
In North America, Vancouver at 24 is the most liveable location followed by San Francisco at 40.
Dubai, ranked at 109, is the location in the Gulf region which requires the least adjustment for Asian assignees overall.
For Asian assignees going to Africa, Port Louis, Mauritius, (118) affords the best quality of living followed by Cape Town (133).