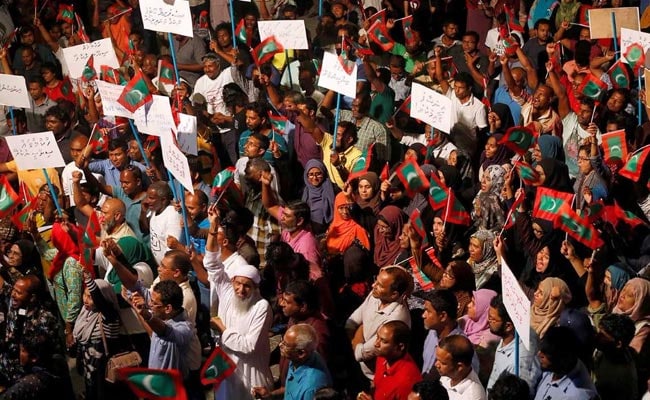 A
power struggle in the Maldives, a tiny Indian Ocean nation known for scenic luxury resorts and crystal-clear blue water, is taking center stage in a wider battle for regional influence between India and China.
On Monday, President Abdulla Yameen declared a state of emergency after the Supreme Court ordered him to free political prisoners and opposition politicians he's thrown in jail. Security forces then stormed the court and arrested two judges, as well as a former leader. The remaining judges later annulled the previous ruling, the Associated Press reported Wednesday.


The political drama has sparked concern in India, which said last week in an unusually strong statement that it's "imperative" for the government to obey the Supreme Court. China, which signed a free trade agreement with the Maldives last year, said Tuesday the country of roughly 400,000 people has "the wisdom and capabilities to cope with the current situation independently." India, which views China as its main geopolitical foe in Asia, has been more assertive under Prime Minister Narendra Modi in pushing to maintain geo-strategic supremacy in the Indian Ocean, with backing from the U.S. and Japan. China, meanwhile, has expanded its influence by building ports in Sri Lanka, Pakistan and Djibouti, a small African nation that is also home to its first overseas military base.


China Outreach
"As India tries to establish itself as the preeminent power in the Indian Ocean region, the Maldives have become increasingly important," said Constantino Xavier, a fellow at Carnegie India in New Delhi. Yameen has "definitely accelerated his outreach to China, to fend off pressure from the west and also reduce leverage from India." The Maldives has become politically volatile in recent years.
Yameen, who has courted Chinese and Saudi investment since coming to power in an election in 2013, has been criticized by the State Department for jailing opposition politicians and eroding human rights protections. Before the decision to annul the court ruling, Mohamed Nasheed, an exiled former Maldives president and opposition leader, had asked India's armed forces to back an envoy that would help enforce the order, free political prisoners and secure the safety of judges. The U.S. has condemned the state of emergency.
(Except for the headline, this story has not been edited by Trend Today and is published from a syndicated feed.)